I was setting up my nativity characters for chapel this week, and was reminded about a preschool chapel last year that became the central illustration in a sermon I preached on Dec. 20, 2015.  The sermon was in the context of a 'Traveler's Christmas,' a Christmas Eve service for those who would be travelling over Christmas.  I found the manuscript to that sermon and realized I needed to hear it again this year.
Text: Luke 2:1-20
Last week in preschool chapel here at Grace, the kids were helping me tell the Christmas story.  I had a few sets of characters scattered around up front, and together we organized them to look something like a nativity scene.  And because I know that epiphany doesn't come until after Christmas, the kings were a distance away from the rest of the animals and characters.  Someone noticed this and said, "the kings don't have a star to follow!"  Without missing a beat, the kid sitting next to me holding the picture Bible put it down and jumped up, saying, "I can be a star…like this!" and he spread his arms and legs out while we sang "Go, tell it on the mountain."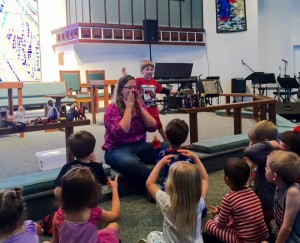 I tell you that story tonight because it was a moment full of joy and life that I just can't get out of my head.  But also, the more I think about it, the more I think that kid got it right.  For many of us, this story we read in Luke 2 is really familiar, and every year we arrange the various pieces of our nativity sets to illustrate the story…and then we stand back and admire it from a distance.  In fact, I think if we're honest with ourselves, we keep the whole message of Christmas at a distance.  We distract ourselves with questions about the historical accuracy, the literary details, the cultural specifics.  Maybe we honor the traditions of those around us.  Maybe we even find meaning in these traditions for ourselves.  But, for the most part, we keep this God who breaks into the world at a distance.